Importing data into Power BI
API customers can easily bring results of API exports into Power BI to build custom dashboards and reports.
In this guide we will focus on the new Meltwater API - Power BI integration.
Alternatively you can still make use of Power BI's Web Data Source feature to import export results into the tool. All you need to do is provide the URL for the JSON result of your export.
What we'll cover
Configuring Power BI to use the integration
Importing data using the integration
Creating a visualization
Before you start
Meltwater has built an integration for Power BI. This integration is not currently listed in Power BI as a data source.
We are working with Microsoft to have the integration listed, but for now you will need to ask your Account Manager for access to the integration.
To complete this guide you will need:
Access to the Meltwater Power BI integration.
An ACTIVE (recurring) or FINISHED (one-time) export.
Microsoft Power BI Desktop installed.
1. Configuring Power BI to use the integration
In Power BI terminology the Meltwater integration is called a 'Custom Connector'. As explained above, this is because we are working with Microsoft, but the integration is not yet certified. You can read more about custom connectors here.
Because the integration is a custom connector, this means you need to copy the integration file to the right location on your computer, and you must allow Power BI to use custom connectors.
Your account manager will send you the latest version of the integration. The integration will have a file name of the form MWPowerBIConnector_1_0_0.mez.
Copy the MEZ file to [Documents]\Power BI Desktop\Custom Connectors (you will need to create this folder if it doesn not exist):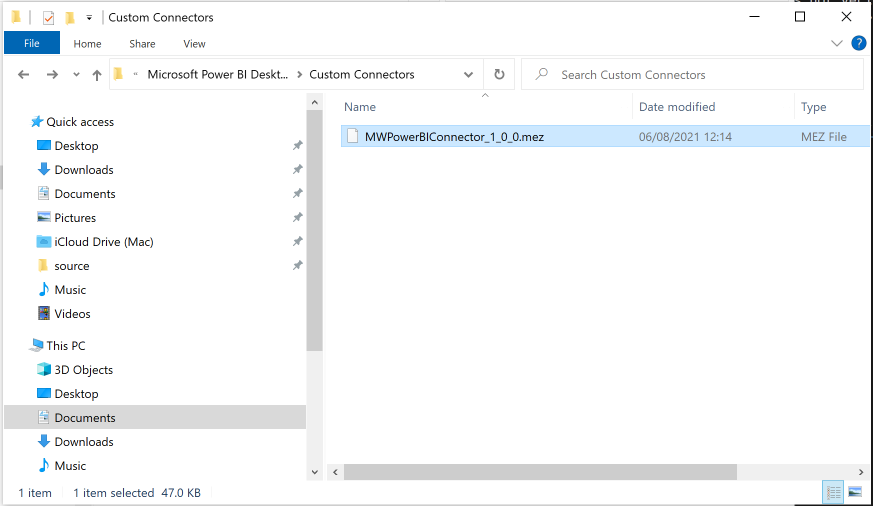 You now need to allow Power BI to use this custom connector.
In Power BI, under the File menu select Options and settings, then Options. Go to Security, then allow extensions not validated by Microsoft: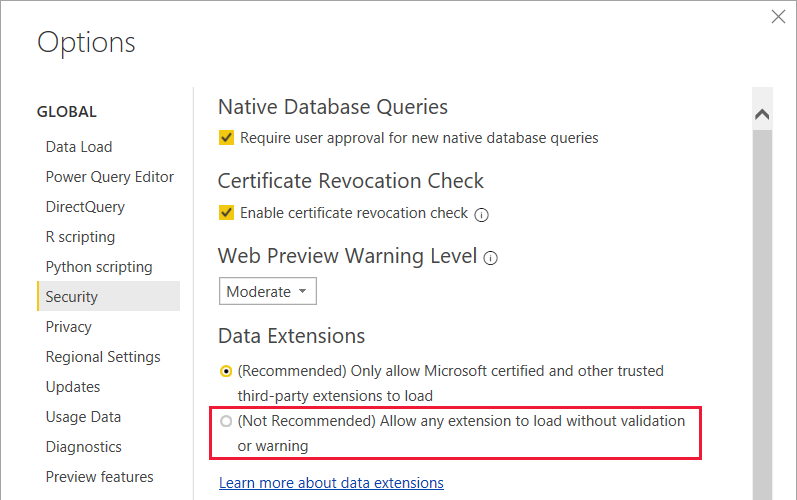 2. Importing data using the integration
To import data you will need the Data URL for your API export. This tells Power BI where to fetch data from. This is available from your exports in the developer portal.
Navigate to the Export Console and sign in with your Meltwater credentials.

Right-click the 'JSON' link for the export you want to use in Power BI and choose to copy this to your clipboard.

Open Power BI and select Get Data, then More... to see all available data sources.
Enter 'meltwater' into the search box to find the integration.

Select the Meltwater connector and click Connect to continue.
Paste the 'JSON' link for your export into the Export result URL field.

Click OK to continue.
At this point you will be shown the Navigator dialog. Because the schema for an export is nested, here you can choose which data you'd like to import. We recommend you select all of the tables on the left, but you could choose to only import the Documents table for instance.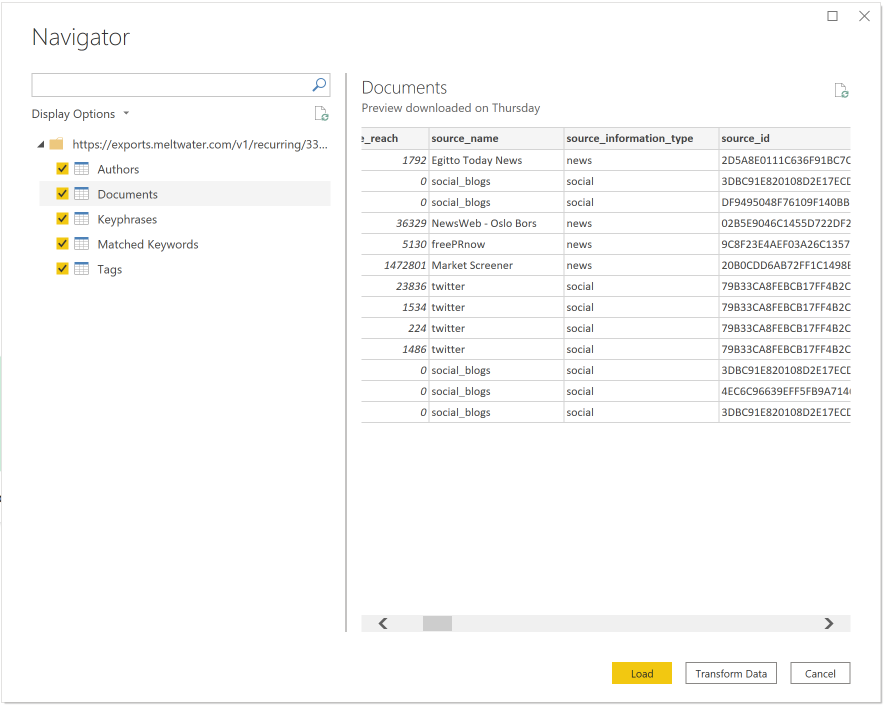 Once you've selected the tables you require click Load to continue.
Your data will be imported into Power BI. Depending on the size of the export this might take a little while.
3. Creating a visualization
You are now ready to build a report using the imported data.
As a simple example you could build a donut chart showing a breakdown of sentiment.
Select Donut Chart from the list of Visualizations. From the Documents table Drag document_sentiment on to the Legend box, then drag document_id on to the Values box.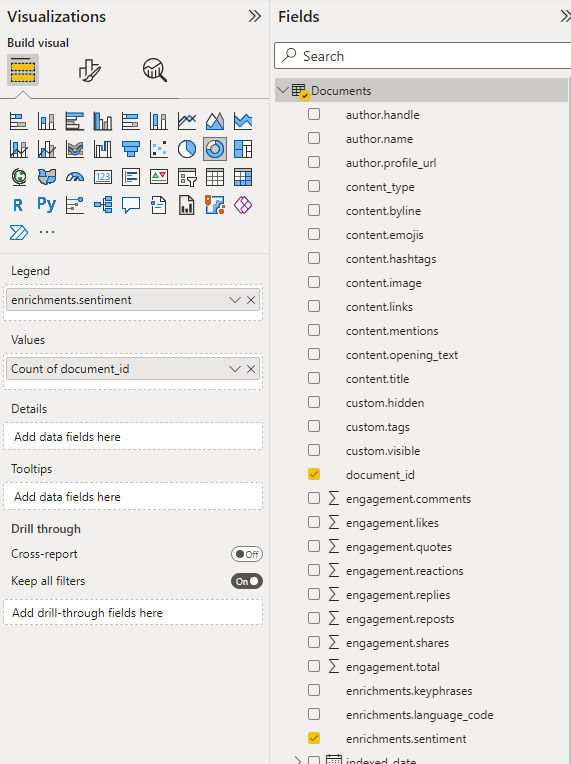 This will give you a simple chart.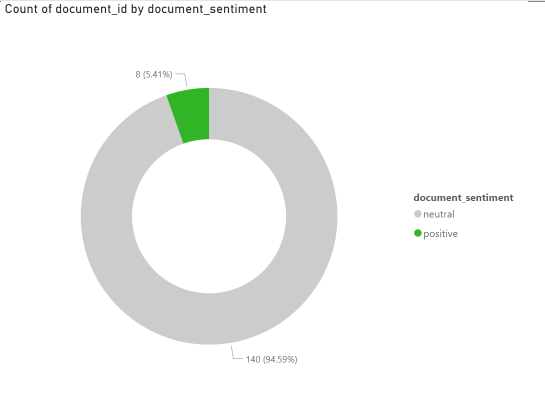 Hopefully this guide has given you a place to start when using Meltwater data in Power BI. Please consult the Power BI documentation to explore more options for your visualisations and reports.